Stud Principals Paul and Peter Routley at the Lockhart show with the champion White Suffolk Ram and the champion Bond Ram.
Peter & Marianne Wallis (Glenlea Park) and Gordon Wood (Landmark) holding Glenlea Park" 9009 "Breaker" purchased by "Almondvale Bond Stud" for $14000 from Adelaide Stud Sale 2011. Breaker has been joined to a large number of Bond ewes and his progeny looks excellent.
F.D 19.3 | S.D 3.3 | C.V 17.1 | C.F 99.6 | BW 123kg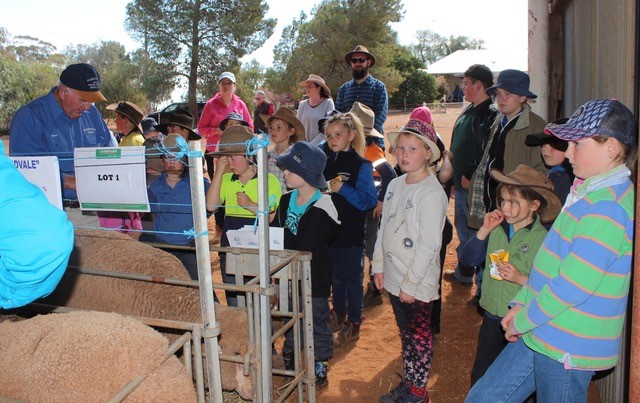 Paul Routley talking to school children on their excursion to the 2019 Ram Sale.
Almondvale 050066
Peter and Paul with successful bond rams
Stud ewes in the yards for drafting
2019 Ram Sale with Landmark staff
Highlights


Poll Boonoke 190044 & Poll Boonoke 191348


Detpa Grove Elite Ewe Purchase


Detpa Grove elite ewe (Lot 3b) purchased in April 2015 for $2200
Almondvale purchased 10 ewes at the sale, to average $645
Dawning of a New Venture - Almondvale Poll Stud
Baringa 'Colt' 218/18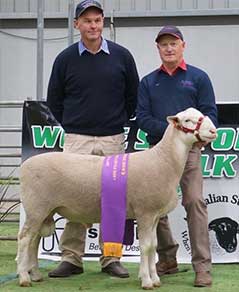 Baringa 'Colt' 218/18.
Purchased by Almondvale for $10,000 at the 2019 Elite Sale.

Poll Boonoke 181312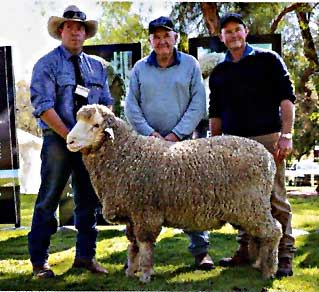 Poll Boonoke 181312, purchased by Almondvale for $7,000.
FD 21.0 SD 3.5 CV 16.7 CF 99.6 YCFW 26.3 YWT 8.6 MP+ 160 DP+ 160
Photographed with Shannon Mitchell, Peter Routley & Paul Routley.
Wagga Livestock Marketing Centre
Lamb & Sheep Sale May 2011
Routley's Passion for Sheep
Yarrahappini Stud has a New Home
Field Days
>> 2011 Special Educational Field Day
Bond Sire Evaluation Trial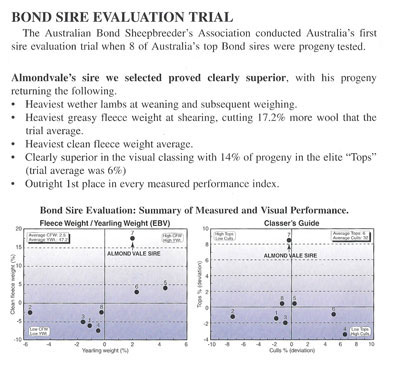 Advert
Almondvale adverts placed in the Australian White Suffolk Association Newsletter.
>> March 2011 see pdf version
>> August 2011 see pdf version