Stud Principals Paul and Peter Routley at the Lockhart show with the champion White Suffolk Ram and the champion Bond Ram.
Peter & Marianne Wallis (Glenlea Park) and Gordon Wood (Landmark) holding Glenlea Park" 9009 "Breaker" purchased by "Almondvale Bond Stud" for $14000 from Adelaide Stud Sale 2011. Breaker has been joined to a large number of Bond ewes and his progeny looks excellent.
F.D 19.3 | S.D 3.3 | C.V 17.1 | C.F 99.6 | BW 123kg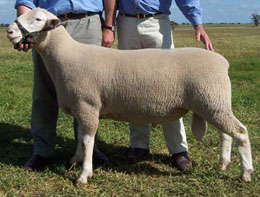 Detpa Grove 040641 purchased for $3000
Almondvale 050066
Peter and Paul with successful bond rams
Wingamin 032790 purchased for $7000
2011 Ram Sale with Landmark and Rodwells agents after the sale
Highlights



Detpa Grove elite ewe (Lot 3b) purchased in April 2015 for $2200
Almondvale purchased 10 ewes at the sale, to average $645
Dawning of a New Venture - Almondvale Poll Stud
Kamora Park 137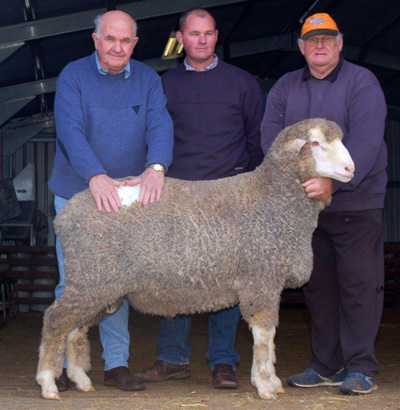 Kamora Park 137 was purchased by Almondvale in 2014 for $10,000

Purchased Top Price Ram at Adelaide 2013
"Torpedo" - Purchased by Almondvale for the the top price of $10,500 a the Adelaide Show White Suffolk Sale. Offered by Baringa Sheep Stud
Wagga Livestock Marketing Centre
Lamb & Sheep Sale May 2011
Routley's Passion for Sheep
Yarrahappini Stud has a New Home
Field Days
>> 2011 Special Educational Field Day
Bond Sire Evaluation Trial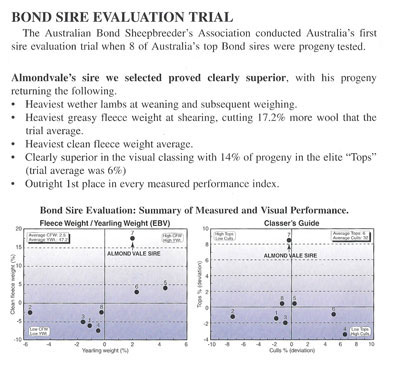 Advert
Almondvale adverts placed in the Australian White Suffolk Association Newsletter.
>> March 2011 see pdf version
>> August 2011 see pdf version